INFO BRIEF - RACE DAY

1. Anyone can take part in the Trail Buster, however children under 13yrs need to run/walk with a registered adult. Please register for the event ON/BEFORE March 31. Late entries are available on the day at the event. Late entry fee $40 per person.
2. Standard Entry fee is $30 per person. We would love each individual to fundraise $50 or more towards our event charity of choice. This year, 360 Community Trust is again partnering with ADRA NZ, so you may choose to support either charity.
• If you need an alternate method of payment/registration, please contact esther@360.org.nz.
• Once you've registered, please share your fundraising page with your family, friends & colleagues.
• Remember, every dollar raised makes a difference!
3. EVENT BASE: DUDER REGIONAL PARK, 933R North Road, Clevedon
Parking is available at base - spaces are limited. Park responsibly to ensure access for emergency vehicles is available at all times; that the public is not unduly inconvenienced; and that public access ways are kept clear at all times.
8:00am - Registration open.
8:45am - Briefing from Event team
8:50am - Briefing from Ranger
9:00am - 13.4km runners start
9:20am - 6.7km walkers/runners start
11:15am - Awards ceremony commences. You must be present to win.
12:00pm - Event is concluded
Hot milo is available at the start/finish line.
4. Identification bibs must be worn at all times during the event. These will be given to you at registration on the day.
5. If in the opinion of medical personal, a participant is unable to continue for medical reasons, then the organizers reserve the right to withdraw that participant from the event.
6. HOW TO GET TO DUDER REGIONAL PARK
Via Beachlands
- From the Whitford Roundabout head north on Whitford-Maraetai Rd for 9.1 km then take the 2nd exit at the roundabout to stay on Whitford-Maraetai Rd. In 3.3 km at the roundabout take the second exit onto Maraetai Drive. In 4.2km turn right onto North Rd and in 1km the destination will be on your left.
Via Clevedon
-At the Clevedon Roundabout (intersection of Papakura-Clevedon Rd & Clevedon-Kawakawa Rd), take the 1st exit onto North Road towards Maraetai. In 9.6km the destination is on your right, 933R North Road, Clevedon.
Please note motorway closure from Manukau to Takanini on the Southern Motorway until 8am Sunday morning. See map below for alternative routes.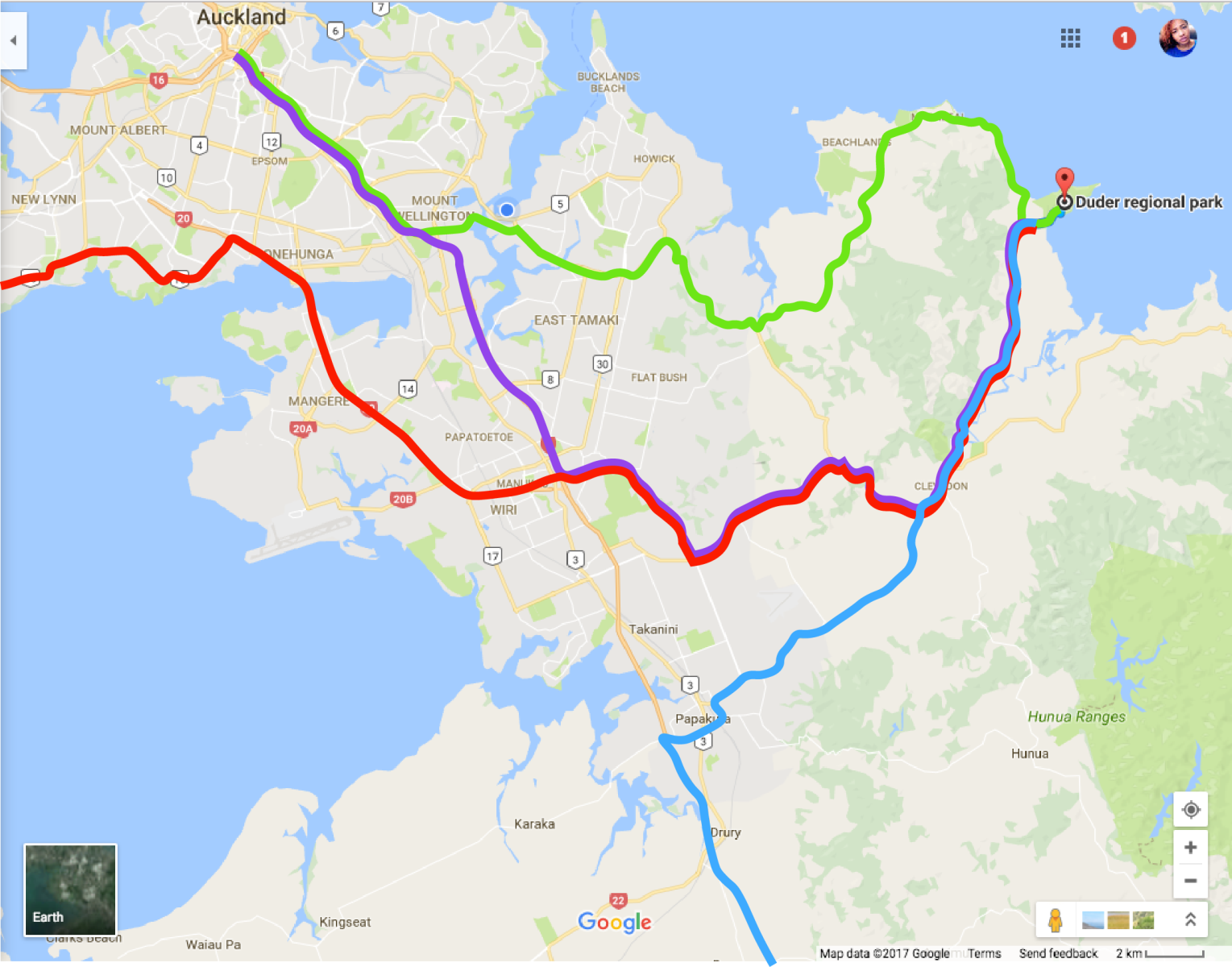 7. CARPOOL:
Parking spaces are limited. We strongly recommend that you carpool where possible.
8. OTHER:
Cancellation - as a condition of the Health and Safety and Auckland Councils Liability insurance, the Park Ranger reserves the right to cancel the event 24 hours before the event day.
Postponement - in the event of a cancellation, the event will be postponed. Participants will be notified post event, date of the postponed date.
Early shutdown - if the event is stopped after commencement, there will be no postponement date.
Refund - Thank you for your fees and donations. These will not be refunded in the event of a cancellation or early shutdown of the event as directed by or in consultation with the Park Ranger for any reasons including Health and Safety of the participants, or the withdrawal of a participant/s.
Alcohol and Smoke-free event - as agreed with Auckland Council.
No trading is permitted.
Amplified music is discouraged. If needed, it should not unduly disturb neighbors to parkland or other park visitors. The Park Ranger has the authority to reduce any excessive sound levels.
The park is open to other users - please respect them and give them time and space to pass.
9. SERVICES:
Toilet facilities - available at Start/Finish Line
Water - Please bring your own water. The water at the toilets is NOT safe to drink. Start/Finish line has drinkable water provided free - you will need your own container. There will also be two other check-points on the track with water available.
First Aid - available at various checkpoints along the track and at the start/finish line.
10. THE PARK
• To learn more about the park, click here to visit the Auckland Council website
• Go to the following link to read the important notice re Kauri dieback.
• HOW CAN WE HELP?
• Kauri dieback is a deadly disease killing Kauri trees throughout the Auckland region.
• Reports of kauri deaths in the Hunua Ranges in 2007 prompted an investigation by the late Dr Ross Beever (Landcare Research) and Dr Nick Waipara.
• This work led to the discovery of kauri dieback, a new disease to science. This disease is spread via spores in the soil and can kill kauri trees of all ages.
• Little is known about the disease and management of parks has been directed toward minimizing the spread of soil in an effort to prevent the spread of the disease.
• In 2008, kauri dieback disease was pronounced an unwanted organism by MAF, prompting the formation of a joint agency response and the Kauri Dieback Management team.
• Auckland Council is a key partner and works to 'keep kauri standing' within the Auckland region.
• Clean your shoes before and after visiting our Kauri forests. Use the shoe scrubbing brushes and sprays at the cleaning stations on the tracks.
• Clean your footwear, tyres, and equipment before and after you leave an area where kauri are present and stay on the tracks and off kauri roots.
• Do not drop litter. Please respect the park and carry your rubbish to the next checkpoint.
• Any participant found to be contravening any park regulations may lead to disqualification from the event.
11. HEALTH & SAFETY:
• There are two major checkpoints that will have water, first aid and communications available.
• Please give way to others walking at a faster pace and other track users. The trail can get congested, be aware of other users.
• Everyone should carry a mobile phone, with full battery power to last the event. Store the following emergency numbers on your phone:
• Duder Park Ranger: 09 292 4267
• Tracey Ryan, Event: 021 739 756
• Esther Williams, Event: 021 079 5125
• Prescription medication and pain medication will be your own responsibility. These cannot be issued by First Aid.
• Be prepared for all weather conditions. Assistance will be available to extract people from the track to the nearest extraction points if needed.
Raised So Far
$5,238.65
Help us raise vital funds